I'm not a confessionally reformed person but my late mentor was. I remember sitting in his home with his beloved Thompson Chain Reference Bible as we discussed the ninth commandment after I had played a prank on a friend and it had backfired when they discovered my dishonesty.
Here's what the Larger Catechism says about the ninth commandment:
The ninth commandment forbids everything detrimental to the truth and the good reputation of others as well as our own, with special reference to legal matters in the courts. We must not give untrue evidence, suborn perjury, knowingly appear and plead on behalf of an evil cause, or engage in overbearing and boastful exaggeration. We should never participate in passing an unjust sentence, call evil good or good evil, or reward the wicked in a way appropriate to the righteous or the righteous in a way appropriate to the wicked. Forgery is forbidden, as is concealing the truth, remaining silent in a just cause, and not taking it on ourselves to reprove or complain to others about some wrong. We must not speak the truth at an inappropriate time, or maliciously to promote a wrong purpose, nor pervert it into a wrong meaning, into ambiguous equivocations, or in such ways as to undermine truth and justice.

Also forbidden are: saying anything untrue, as well as lying, slandering, backbiting, belittling, gossiping, whispering, ridiculing, reviling, and expressing any kind of judgmental opinion that is rash, harsh, or prejudiced; misconstruing intentions, words, and actions; flattery and ostentatious boasting; thinking or speaking too highly or too poorly of ourselves or others; denying the gifts of God or the effects of his grace on us; exaggerating the significance of trivial faults; concealing, excusing, or rationalizing our sinful behavior when we are called to confess it voluntarily; gratuitously revealing the problems and failings of others; spreading false rumors, receiving and approving evil reports, and refusing to listen to a just defense; harboring evil suspicions; being envious of or grieved by the deserved honors others receive, trying to discredit those honors, and rejoicing at someone else's disgrace or evil reputation; scornful contempt and foolish admiration; breaking our lawful promises; and, finally, failing to promote everyone's good name, and doing, not avoiding, or not hindering in others, as we can, those things that give people a bad name. 1
Why am I quoting this lengthy section from the Westminster Larger Catechism about our relationship to the truth?
Because in the last week, I have witnessed what I consider to be an evil – an evil pointed at someone I wouldn't typically want to defend. That evil has to do with an unwillingness to investigate and discover the truth even when it hurts to admit it.
If you've been following the news this week, you know that the city of Houston has been hit hard by Hurricane Harvey. At the time of writing, the storm looks set to make its second landfall with 30 dead already and growing hundreds displaced from their home. It has been an ecological nightmare that we can only hope the city recovers from.
In the midst of this disaster, the beast that is social media took no time from finding a new story to make us lose sanity, give in to our natural tendency to 'feel first, think later' and just be plain angry.
Apparently, Houston's resident megachurch, Lakewood Church, pastored by the (in)famous Joel Osteen, closed its doors to the many who needed help and that is, usually, an action that ought to elicit strong condemnation.
Secular media picked up on this with excoriating attacks on the charismatic televangelist, such as Charlamagne tha God of the popular Breakfast Club radio show, syndicated nationwide: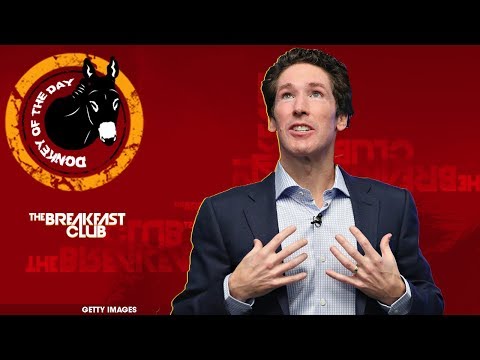 A millionaire preacher refused to open his doors to the needy – the same people he probably fleeces each week. Shakespeare would be proud of such a narrative.
There is just one problem – that's not exactly how the story broke down.
Apparently, Osteen's theology of optimism and positive confession couldn't stop him canceling services and classes at the church and given the church's history of response to natural disasters such as Hurricane Alison in 2001 and even during local floods last year, the story turned out to be a little more wooly than first reported and pontificated on.
You may read the past 700 words and think, "Why does this bother you? It's Joel Osteen – it doesn't really matter, given what he's done!"
Well, I want to say it does matter – telling the truth, even about those whom we don't like or care for, matters.
My dislike for prosperity theology does not absolve me of my responsibility to obey James 1:19-20:
My dear brothers and sisters, understand this: Everyone should be quick to listen, slow to speak, and slow to anger, for human anger does not accomplish God's righteousness.
The text gives us three principles for speaking that apply, not just in trials, but universally:
1. Christians are called to be quick to listen:
Gather the facts. Take your time. Check, double check and triple check the details. Communication that honours the Almighty begins not with a desire to strike while the iron is hot but a willingness to let the iron cool and take shape so we see what we are dealing with.
2. Christians are called to be slow to speak:
Social media has taught us that everyone needs to comment on everything and if you want to be heard, then you have to get in first. Slowness to speak is not applauded and we are not the better for it. I lost track of how many times people spoke on the issue at hand and then had to apologise for speaking hastily.
It shames us as Christians when atheist bloggers are more careful in their speech that we are. It is not a virtue to hear your own voice all the time when it is used to speak untruths. Before you hit the keys, take a minute. Read a chapter in a book. Watch an episode of your favourite show. Better yet, open your mouth and pray for wisdom. The Internet can wait – your obligation to the truth is worth much more than your need to voice your opinion.
3. Christians are called to be slow to anger:
In other words: take your emotions down from 9 or 10 to 1 or 2. Allowing how we feel to colour the facts doesn't honour God or live up to the objective ideals of the ninth commandment. There is a time and a place for being emotional – but emotions, much like a wild horse, must have the taming bridle of truth placed in their mouth so that they can serve their true purpose of being a response system and not a decision-making system.
Too many Christians let their outrage at the sin of Joel Osteen cloud their judgment and themselves fall into the sin of slander against another imagebearer, even if that imagebearer is a false teacher.
As I was once told, "You don't use an dishonest sword to wage a truth war."
In short, that this debacle even happened ought to humble us and make us think twice about how we speak in relation to controversial issues.
As someone who has a vested interest in reaching people trapped in the prosperity gospel movement, this has only served to hamper the efforts of those who speak out. Credibility is lost when we say things that are untrue and then find ourselves exposed.
If I may end on a blunt note – we are believers and we are better than this.